New Projects - January Winter 2016 -
Rockpools
Winter is always a period when nature-macro photographers can struggle a little finding new material to photograph. Insects are still around but more difficult to find as they hide themselves away. One habitat you can guarantee will be not only as good as summer but often better are seashores. Last winter I was particularly fascinated by the mud around saltmarshes. Like most winter times, for the last month I have been looking at rockpools.


The above was taken with an Olympus TG4 waterproof compact. It would have been better if the weather was better but it was pouring with rain (wettest December on record). At least with this environment there are few problems being wet. There was a profusion of snakeslock sea anemones, particularly the green variety seen here to the left. What I was after was some fringe seaweed. These are the fine weeds in clumps fringing the edge of the pool. Most here are red seaweeds, especially the pink Coral Weed in the foreground. I collect a few of these clumps from different pools trying for a number of species. These are placed in some plastic tubes with seawater. These will fit in my waterproof jacket pocket, any more and it means I have too much. In addition I collect a few litres of fresh seawater in plastic bottles.

Once home the contents of each tube is emptied into small dishes and topped up with seawater. I view the contents under a stereo microscope (a hand lens will work as well) looking for material both attached to the weed and animals that quickly swim out of the weed. The variety of life is staggering. Using a pipette or small plastic white spoon I lift the specimens on to either a microscope slide or into small glass dish (Ikea T light holders are brilliant and cheap). Seawater is full of detritus and material and so I attempt to filter some and add that to the specimen. In the last few weeks from a number of samples I have taken several 1000 photos, many for stacking. Nearly always specimens are photographed live, sometimes in wallpaper paste made up with seawater to slow them down. It can be very time consuming and even with filtered water I find a good deal of detritus gets around the specimen so cloning is required on the computer to remove debris. The weed will have sea mats and sponges growing on them; diatoms and smaller seaweed; beautiful tube worms and roaming sea spiders; many different crustaceans. Here are a few examples all taken with a Canon 7D mk2 with 65mm MPE lens and twin macro flashes plus a Stackshot auto rail. The anemones are not stacked images.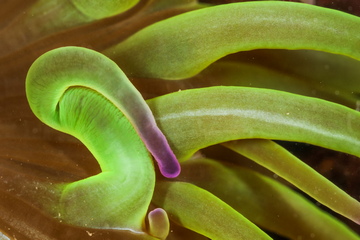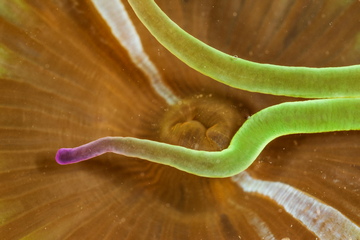 Closeup detail of snakeslock anemone tentacles and mouth. The green is an alga which lives inside the cells and can photosynthesise. Magnification x2



Both of these are stacked from 8 images and retouched within Helicon Focus software as they would not align properly due to wriggling movement. The beautiful worm, left, is about 8mm long and eats the 3mm midge larva on the right. The midge is one of the few marine insects and eats diatoms growing on the weed surface.



A small crustacean called Tanais. The largest in Europe grows to about 5mm. this one popped out of the weed and was around 2mm. Photographed on a cavity slide it needed 3 extension rings on teh 65mm MPE lens to reach magnifications around x8. The two creatures between the legs are barnacle larvae found in the plankton. They just happened to be in the seawater. Tanais is rarely seen as they are so small and hid

e

in weed.

The marine flatworm at the top of the page was made from 4 images and is a tiny species, 1-2mm, crossing the weed fronds.